OFD Consulting owner, Meghan Ely, CWIP (Certified Wedding Industry Professional), combines in-the-trenches event experience with a love of wedding PR to empower her clients to take their businesses to new heights. Her team's publicity efforts are regularly honored by the Public Relations Society of America, and most recently, Meghan was named the  NACE Speaker of the Year.
A long-time industry speaker and writer, she is a WeddingPro educator with The Knot + WeddingWire, as well as a regular contributor to Wedding Planner Magazine, Catersource, and SpecialEvents.com. Meghan currently serves as the 2023 International Immediate Past President for WIPA and is a member of the Allied Council for the National Society of Black Wedding and Event Professionals.
Speaking Topics
Make it Easy for Editors to Say Yes: Get Published More with Modern Media Strategies
Are you Ready for the New Way of Doing Business in Weddings?
Navigating the Wedding Submission Boom
Social Proof: Understanding it, Earning it + Leveraging it in the Event Industry
Dazzle with Surprise & Delight in the Event Industry
Already booked this speaker?
Getting to Know You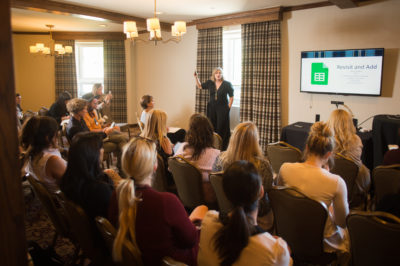 What topics do you enjoy speaking on the most?
I'm happiest when I'm speaking on wedding PR topics- especially with how to build a press portfolio with so many changes to the media landscape. In a lot of ways, we're in uncertain times as an industry so if I can encourage attendees by giving them tried and true tips, then I've done my job.
What topic would you love to tackle next?
As much as I love covering wedding publicity, I also find myself gravitating toward subject matter related to longevity and relevancy in the wedding industry. Wedding PR is one part of the equation, but there is so much more to consider- from relationships to diversification.
How would you describe your speaking style?
In one word- energetic. There's a reason that conference organizers tend to put me during the parts of the day when there is historically a lull. I joke that I'm actually a great alternative to a coffee break.
My enthusiasm for speaking knows no bounds- and find that the crowd often starts to mirror my energy level as we make our way through the presentation. I also tend to be informal, and love pulling in anecdotes from my own days as a wedding pro. And while I don't necessarily consider myself very funny, I do find ways to bring in humor organically. It actually cracks ME up when I get on a roll and the group is in stitches.
What has been your favorite speaking engagement to date?
It's difficult to just pick one- I've had countless memorable moments and have met so many great people. But I'd say it's a tie between my two-day presentation at the Business of Weddings Ireland and my most recent stint at WeddingWire World DC. With Ireland, I just made so many lifelong friends- the planner Annie did a magnificent job creating this incredible experience for all those in attendance. With DC, I was actually given my Surprise & Delight topic for the fifteenth or so time, and everything just worked perfectly- from Alan Berg introducing me as "a Grey's Anatomy historian" at the onset to the 360 degree stage and having so many local friends in the crowd. I aspire to have that great of a presentation again.
When heading to a wedding industry conference, I never leave home without my….
My Logitech wireless presenter! Audio visual will make or break you so I like having something on hand (literally!) that I can control. It's easy to pack and has a great grip. I remember one time I was handed a slippery slide changer while on a runway and it flew right out of my hand into the audience.
Where would you love to speak next?
I've always enjoyed my international speaking engagements, so I'd love to make my way back to Europe. I'm also eager to finally make a pilgrimage to England. Given how much I love the royals, it surprises most people to know that I've never actually been. I'll definitely be on the next plane over if the Windsors need me!