A marketing consultant and small-business builder, Tayler is the Founder of Enji—an exciting new startup launched in the spring of 2023. (Though you might recognize her from one of her other companies: TAYLRD Media and Designs and Sourced Co.). In her newest endeavor, Tayler is taking everything she has learned over nearly a decade of helping small businesses with marketing to design and build a suite of online marketing tools that fit your lifestyle and make sense for you. Because, while you didn't sign up to be Chief Marketing Officer of your business, at Enji, we believe becoming one doesn't have to be so daunting—and our goal is to empower you with the tools and solutions you need to make more informed decisions, use your resources more effectively, get creative with how you connect with customers, and ultimately grow.
Speaking Topics
Step into Your Role as CMO
Like Clockwork: Making Time for Marketing (Even When You Don't Have It)
R-O-Why: Making Sense of Numbers to Enhance your Marketing Strategy
Rinse + Repeat: Making Marketing a Sustainable Habit
The Future is Here: How to Uplevel Your Marketing with AI
Already booked this speaker?
Getting to Know You
What topics do you enjoy speaking on the most?
Having any opportunity to teach and "be in a classroom" is my happy place, so I am always excited to be speaking. But I am definitely most fulfilled when I can help flip the switch on a marketing topic someone has been struggling with so they can see a clear path forward.
What topic would you love to tackle next?
Nerding out on marketing strategy will always be my thing, but after wedding pros have figured out how they are going to market their services and products, it's important for them to know whether or not those efforts are working! So I'm excited to help people take the next step towards becoming really effective marketers.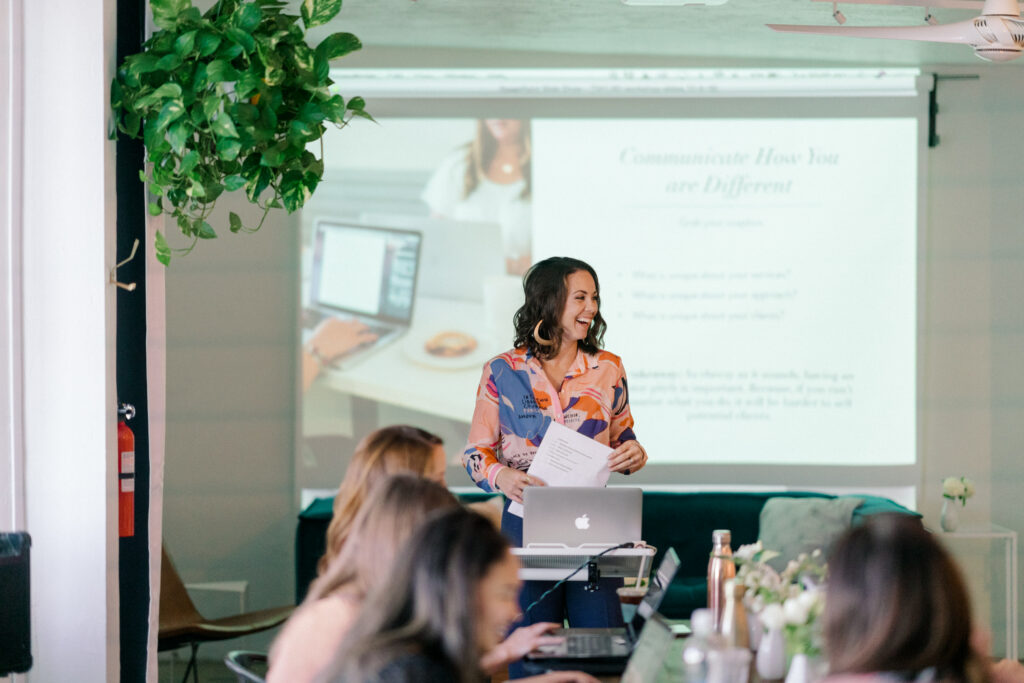 How would you describe your speaking style?
I got my Master's degree with the intention of becoming a community college professor, so I am truly a teacher at heart. My goal is to never talk over someone's head, give them a reason to pay attention, and always have them walk away with a list of action items.
What has been your favorite speaking engagement to date?
WeddingPro's COR conference! I had not spoken in person for almost 3 years due to COVID, and it was the best "first time back"!
When heading to a wedding industry conference, I never leave home without my….
Chapstick! I know, so weird. But I hate feeling like my lips are dry and (even worse) licking them when people are watching.
Where would you love to speak next?
Since I am just getting back to speaking at in-person events, I'm excited about anywhere! But speaking at Wedding MBA has long been a goal of mine, so I would love to stand on that stage someday!