Lynne Reznick is an educator-turned-photographer whose own love story and marriage inspires her to document the love of other soulmates. She finds joy in supporting her couples and connecting with industry peers. Her goal is to support couples throughout the planning process and to capture their unique love and wedding day vision in timeless imagery.
Always an educator at heart, Lynne is committed to building opportunities for connection and learning within the wedding industry and beyond. She recently launched her first online course called The Wedding Client Experience Academy and enjoys mentoring and coaching new wedding pros one-on-one and in hands-on workshops.
Speaking Topics
Serving Your Clients Before They Sign on the Dotted Line
Creating Peak Client Moments as a Creative
Mentorships, Coaching, Advice: How to Provide Support in the Industry
Cultivating Comfort: The Key To Impeccable Client Experience!
Better Marketing Starts With A Better Client Experience
Get It Done: Effective Goal-Setting for Strategic Business Growth
The Psychology of Pricing: 10 Tips To Make Your Pricing Guide More Persuasive
Already booked this speaker?
Getting to Know You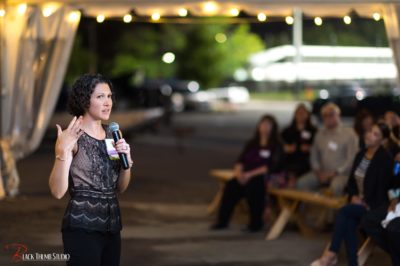 What topics do you enjoy speaking on the most?
I'm really passionate about operating from a service mindset and using that mindset to educate, support, and serve clients well. So my favorite topic is diving into the importance and impact of creating an impeccable client experience. And the Type-A in me is always happy to nerd out about workflows, email templates, client touchpoints, and streamlining processes.
What topic would you love to tackle next?
I've relocated my business to a brand new market twice in the last eight years. It takes some serious hustle and intention to transition to a completely new region and I'd love to dig into tips for helping others make that transition as well.
How would you describe your speaking style?
I'm energetic, informal, positive, and I use my hands a lot when I speak! I love building audience interaction into whatever topic I'm speaking on to keep engagement high. And I always seek to help people to make connections between a topic and their own lives and work.
What has been your favorite speaking engagement to date?
Co-leading an interactive workshop for styling and photographing flat lays was definitely a favorite of mine. It was a large diverse group of creative business owners at Alt Summit in Palm Springs, CA. I loved getting to present concrete helpful strategies and then see people immediately putting those strategies to work in their own images. And it didn't hurt that the setting and CA sunshine were beautiful!
When heading to a wedding industry conference, I never leave home without my….
A pretty notebook and pen! I'm all about technology in every other aspect of life, but I love taking notes at sessions and tracking my ideas by putting pen to paper while at conferences.
Where would you love to speak next?
I love living in the Northeast, but I also adore traveling and exploring new places.