Julianne Smith is a nationally recognized wedding accessory designer, digital media strategist and small business educator. Julianne is the owner of The Garter Girl, a stylish wedding garter design company she started in 2004, after she couldn't find a wedding heirloom worthy of her best friend. The Garter Girl is known for stylish and meticulously handmade wedding heirlooms that are too pretty to toss. The Garter Girl and Julianne have been featured on NBC's Today Show, Lifetime, The Knot, Martha Stewart, Brides, and Glamour as well as many top wedding magazines and blogs.
Julianne helps creative small businesses throughout the wedding industry who are struggling and confused with their online presence. Julianne offers done-for-you services, online courses, and speaking engagements on search engine optimization, blogging, and Pinterest.
Before creating The Garter Girl, Julianne was a political communications strategist, spokeswoman, and media specialist.
Speaking Topics
Overcoming Marketing Fatigue in the Event Industry
Pinterest in the Events Industry: A Strategic Match
Navigating Expectations with Pinterest-Happy Clients
Blogging for Your Business: The Key to Making it Work in 2023
How To Take a Sabbatical In Your Business Every Year
Already booked this speaker?
Getting to Know You
What topics do you enjoy speaking on the most?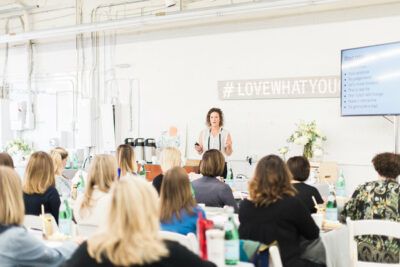 I really love action-oriented speaking topics where the audience can get out their laptop right then and there to make improvements or implement new skills right away. I never stop learning myself and bring that same love of learning energy to my presentations. So, if you come to hear me speak, bring your notebook and a pen or your laptop so that we can get down to business!
What topic would you love to tackle next?
Overwhelm is a big topic for me personally and professionally, and I think it's what holds many in the wedding industry back from taking meaningful action towards their goals. I typically speak on "how-to" topics, but before you get to the act of implementing a new skill, you must be free and clear of overwhelm and have a solid plan. As an Enneagram 8, plans are my love language! I'd love to work with other wedding pros on doing new skills and developing a realistic plan to get it done.
How would you describe your speaking style?
I try to be as relatable and realistic as possible when presenting. My superpower is that I'm able to take the most techiest of tech and break it down and explain it in a way that my 75-year-old mother would understand it and walk out of my presentation able to implement it all by herself if she wanted to.
What has been your favorite speaking engagement to date?
To pick a favorite speaking engagement is like picking a favorite child, which as the mother of three kids, I know better than to do. Plus, I used to work in politics and media before wedding garters and babies, so I *really* know not to play favorites. My favorite part of speaking is when attendees come up to me after and tell me about the skills they learned that they never thought possible for their business or the light bulb moments they had.
When heading to a wedding industry conference, I never leave home without my….
I never leave my house, let alone attended a conference, without an amazing outfit that I feel comfortable and confident in. How I dress impacts how I feel, so if I'm at the park with my kids or giving a presentation, I'm always the most overdressed person in the room
Where would you love to speak next?
I would be so honored to speak at your next breakout session or mastermind. I excel at rolling up my sleeves and working right alongside you to empower you to get it done.